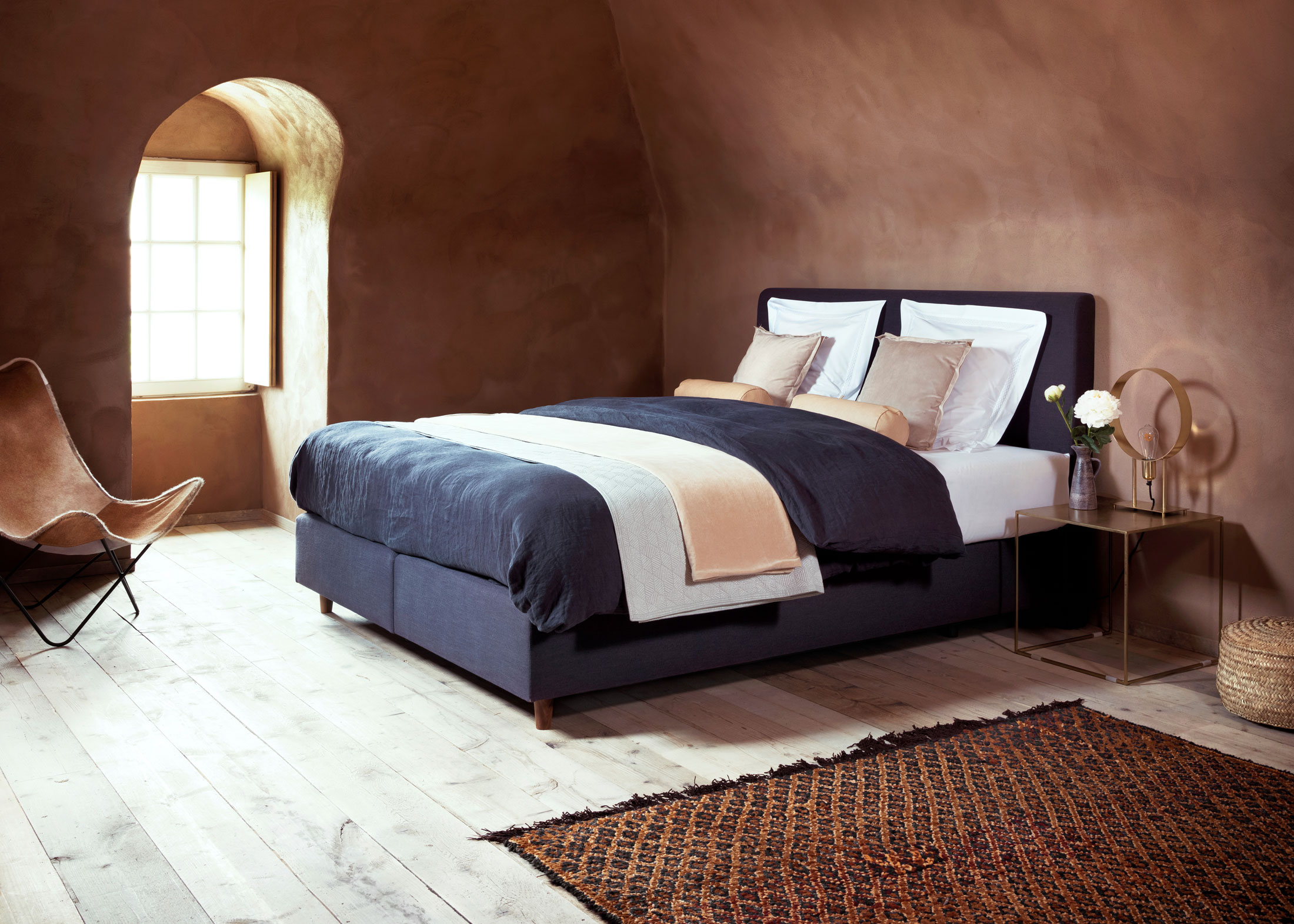 Boxspring, what is it? What are the advantages? A boxspring is a super cosy bed. Discover why and how this luxury bed has become a must-have in bedding!
What is a boxspring?
A boxspring, also known as an upholstered bed base, is a bed consisting of a spring mattress base resting on a wooden frame with legs. The box is upholstered in fabric and comes with a headboard. The mattress is placed on top of the box. It is the ultimate hotel bed! Generally, it is higher than most beds.
These bed bases can be integrated into existing bed frames or placed on legs of various shapes and materials. In that case, they can be embellished with headboards or footboards, dressed with a bed skirt or coverlet, or simply upholstered with removable or non-removable fabric. Some manufacturers even offer leather coverings.
Modern techniques allow for electrically adjustable bed bases. Reading in bed, watching TV in the bedroom, or simply relaxing is now also possible on boxsprings.
What are the advantages of a boxspring bed?
Maximum comfort and support
Its height and pocket spring construction make the bed particularly comfortable and easy to access. You enter and exit the bed naturally and enjoy unparalleled support across its entire surface. Body pressure is completely distributed.
Optimal ventilation
The upholstered spring mattress base offers unbeatable ventilation. The springs allow air to circulate constantly. This provides a regulated temperature conducive to well-being and also prolongs the bed's lifespan. Sleep in a healthy environment, and that for a long time.
Luxurious finishes
The boxspring is the majestic bed par excellence. Its high-end finishes make it a full-fledged architectural element. Fabric, faux leather, or a combination of both, with a classic, modern, or tufted headboard, you are free to create a true hotel bed!
Electrically adjustable boxspring
The size of the box, the bed covering allows for seamless integration of an electric system. Pocket springs are perfectly suited for an adjustable bed. You can adjust your position with a single press of the control.
Can a boxspring be customized?
The pocket spring mattress is the one that will allow you to fully enjoy the boxspring effect. This is why this type of bed is usually offered as a set of bed base and mattress. However, it is possible to customize your own boxspring with the mattress of your choice. The finishes, upholstery, legs, and headboard can all be personalized.
Discover the Beka collections
The Beka Collection:
Starting at 2345€ for a 160×200* bed
*Without mattress